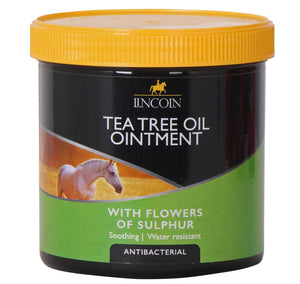 Contains Tea Tree oil and Flowers of Sulphur in an easy to apply cream.
TEA TREE  is an essential oil traditionally used for its antibacterial and antifungal properties, whilst sulfur also provides powerful antibacterial properties.

Creates a barrier against bacteria found in mud and wet conditions.
Moisturises dry cracked skin and optimises natural healing of minor cuts and scratches.
** Ideal for use as a heel ointment in wet and muddy conditions.
A soothing antibacterial and water resistant barrier.

Size: 500g
To use as an effective barrier apply liberally to legs & heels to create a soothing antibacterial barrier in muddy wet conditions.
Use sparingly on minor cuts and dry skin
DISCLAIMER: No therapeutic claim is made or intended for our products.   products are not intended to diagnose, cure, or prevent any disease.   If your horse/dog/cow experiences any adverse effects from using any of our products, discontinue use and contact your veterinarian.