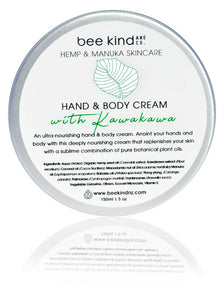 An ultra-nourishing hand & body cream containing NZ Kawakawa extract, Hemp Oil, & Manuka Oil. Annoint your hands and body with this deeply moisturising cream that replenishes and heals the skin.
Apply to hands & body as often as needed.
Core Ingredients:
Organic Hempseed Oil (Cannabis sativa)- Deeply moisturising while opening pores. Regulates skin oiliness & helps reduce scarring, blemishes & acne.
Kawakawa Extract (Piper excelsum)- Strengthens the skin and reduces inflammation, redness or dryness. Also soothing for psoriasis, eczema or dermatitis.
Macadamia Nut Oil (Macadamia ternifolia)- Rich in fatty acids which helps skin suppleness. Proven to reduce age spots, fine lines & wrinkles.
Manuka Oil (Leptospermum scoparium)- A potent skin protectant. Reduces irritation and creates a healing antibacterial barrier.
Other Ingredients:
Water (Aqua)
Coconut Oil (Cocos Nucifera)
Ylang Ylang (Cananga odorata)
Palmarosa (Cymbopogon martinii)
Frankincense (Boswella sacra)

Vegetable Glycerin

Coco Caprylate (Plant based silicone)

Olivem

Ecocert Microcare

Vitamin E
Introducing Bee Kind and Co Hemp & Manuka Skincare with NZ Native Botanical extracts.
Every product in our natural range contains a good proportion of a unique Native NZ Botanical Plant Extract known for its healing or moisturising properties.
We can proudly say this range is 100% Plant Based with NO toxic ingredients!
We used a blend of plant extracts, organic cold-pressed oils, Gylcerine, Olivem (plant-based emulsifier), & Ecocert Microcare (Plant-Based Preservative) along with Vitamin E.
DISCLAIMER: No therapeutic claim is made or intended for our products.  Products are not intended to diagnose, cure, or prevent any disease.