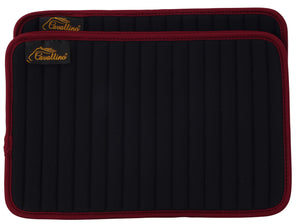 Infrared technology leg wraps with moisture wicking properties.
Comfortable against the horses' skin.
set of 4 - Black with Burgundy trim
Benefits of Infrared

Promotes healthy blood circulation.
Stimulates metabolism to speed up recovery time after exercise.
Helps to maintain higher energy levels. Infrared heat opens blood vessels deep in the muscle tissue increasing circulation. The increased blood circulation in the tissues eases muscle tension and strengthens the bodies own ability to reduce swelling, heal injuries and speed up recovery time
Helps to maintain higher energy levels.
Maximises athletic performance potential

Energises

Heightens strength 

Improves circulation 

Eases muscle tension 

Reduces lactic acid levels 

Increases alertness 

Improves flexion range & muscle reaction time 

Reduces toxin levels 

Aids arthritis symptoms 

Prevents chills 

Reduces pain 

Reduces post work out swelling   

Quickens recovery time & much, much more...
Adsorbs body heat through the use of ceramic fiber, and then releases it in the form of Infrared rays, these penetrate deep within the muscle tissue.